Audiio Discount Code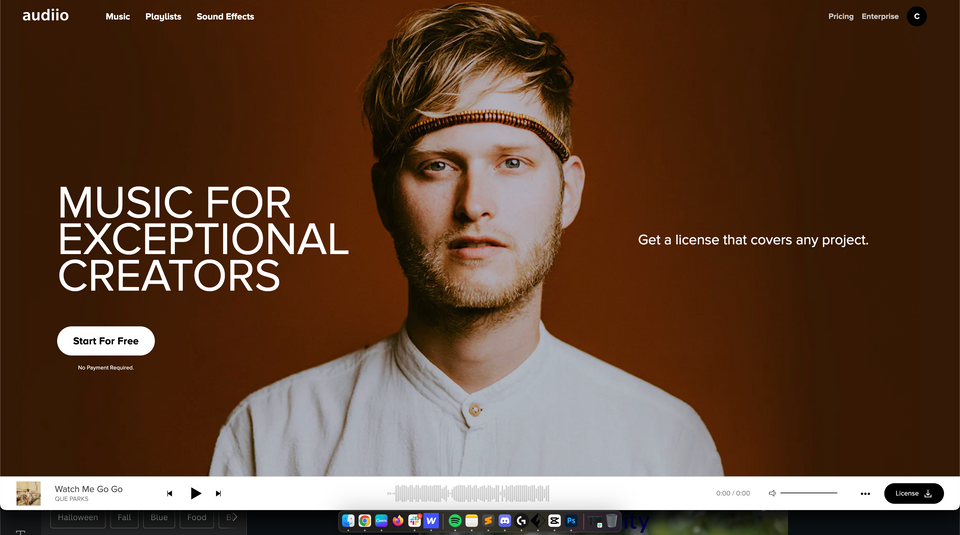 Last Updated: 9th of October 2023. - Still Active!
Introduction
In the realm of music licensing, Audiio has emerged as a beacon for filmmakers, advertisers, and content creators. Offering a vast library of high-quality tracks, Audiio has revolutionized the way professionals source music for their projects. But what if you could access this treasure trove at a discounted rate? Enter the Audiio discount code – a golden ticket to premium music without the premium price tag.
Frequently Asked Questions:
How often is the Audiio discount code updated?
Answer: We strive to keep our discount codes as up-to-date as possible. Check back regularly for the latest deals.
Can I use Audiio music for commercial projects?
Answer: Absolutely! Audiio offers a comprehensive license that covers both personal and commercial use.
Is there a free trial for Audiio?
Answer: Audiio offers a limited free trial where users can download unlimited tracks, explore the platform, and its offerings.
What is the difference between Audiio Pro and Lifetime?
Answer: Audiio Pro is paid once per year and includes both music & sound effects catalogs for use in media projects. Lifetime Music includes only the music catalog and is paid only one time.
What does the license cover?
Answer: The license covers an unlimited number of downloads for your content, including your personal and client projects. Each time you download a song, a PDF license is generated in your account which you can access any time. The license covers virtually all uses of music in videos, podcasts, video games, films, advertisements, and more.
How much music is on the platform?
Answer: Every week, the Audiio team adds between 50-100 new songs to the platform. As of the last update, the catalog contains 6,000+ highly curated songs.
Does my music license cover client use?
Answer: Yes. Your content is covered for promotional use for client projects.
What if I would like coverage for broadcast/OTT or theatrical release?
Answer: For local television broadcast use or self-distributed OTT, you can upgrade to the Audiio Pro subscription. All other uses require a Custom License to cover extended broadcast television and OTT streaming, team use, and more.
Does my license expire if I cancel?
Answer: No. Each license issued for your projects is for perpetual, ongoing use and never expires, even if you cancel.
Answer: Yes, if you purchase a lifetime membership or subscription, you are eligible for a refund up to 14 days after the initial purchase, provided you haven't downloaded any content during that period. Audiio Pro Subscriptions can be canceled 14 days prior to the renewal date.
How often is new music added to the platform?
Answer: New songs are added to the platform every week, with between 50-100 new additions.
Is there a difference in the content available between the Audiio Pro and Lifetime subscriptions?
Answer: Audiio Pro includes both music & sound effects catalogs, while Lifetime Music includes only the music catalog.
How can I cancel an upcoming renewal for Audiio Pro?
Answer: To cancel an upcoming renewal, you can email licensing@audiio.com for more information.
---
History and Background of Audiio
Audiio's inception is a tale of passion and vision. Founded by former Universal Music Group artist, Clay Jones, and a team of industry stalwarts, Audiio was birthed with a singular mission: to bridge the gap between exceptional music creators and the storytellers who need them. Their vision was clear – to curate a platform where quality reigns supreme, and users can effortlessly find the perfect track for their narrative.
---
Benefits of Using Audiio

Quality of Music: Audiio isn't just another music licensing platform. Every track is handpicked, ensuring that users get nothing but the best. From soulful melodies to adrenaline-pumping beats, the quality is palpable.
Range of Artists and Genres: Diversity is at the heart of Audiio's offerings. Whether you're looking for indie vibes, cinematic scores, or pop hits, Audiio's vast library has got you covered.
Use Cases: Audiio's music finds its home in various projects. Filmmakers have underscored poignant scenes with its tracks, advertisers have amplified their message, and YouTubers have added depth to their content, all thanks to Audiio's eclectic mix.
---
How to Use the Audiio Discount Code
Unlocking Audiio's premium offerings at a discounted rate is a breeze. Here's a step-by-step guide:
Visit the Audiio Website: Head over to Audiio's official site, using this link
Choose Your Plan: Browse through the available plans and select one that suits your needs.
Your 70% discount is automatically applied: As you proceed to checkout, you'll find that the discount is already applied.
Voila!: Watch as the total amount dwindles, thanks to the generous coupon code.
With these simple steps, you're not just saving money; you're investing in quality.
---
User Testimonials and Reviews
Don't just take our word for it. Here's what some users had to say:
"Using the Audiio discount code was a game-changer for me. I got access to some of the best tracks for my documentary at a fraction of the cost." - Jordan Sekatawa, Filmmaker
"I was skeptical at first, but when I heard the quality of music on Audiio, I was sold. The discount code was the cherry on top!" - Alexa Mireles, Advertiser
---
Conclusion
In the world of content creation, the right music can elevate your project from good to unforgettable. Audiio understands this, and with their discount code, they've made premium music accessible to all. Whether you're a seasoned filmmaker or a budding content creator, the Audiio discount code is your gateway to a world of auditory excellence. So why wait? Dive into Audiio's vast library and let your story resonate with the perfect soundtrack.
Verification: Our team has verified the Audiio discount code on 9th of October 2023, and it's working perfectly. Get the best deals on your Audiio subscription today!