Soundstripe: A Harmonious Blend of Quality and Affordability in Royalty-Free Music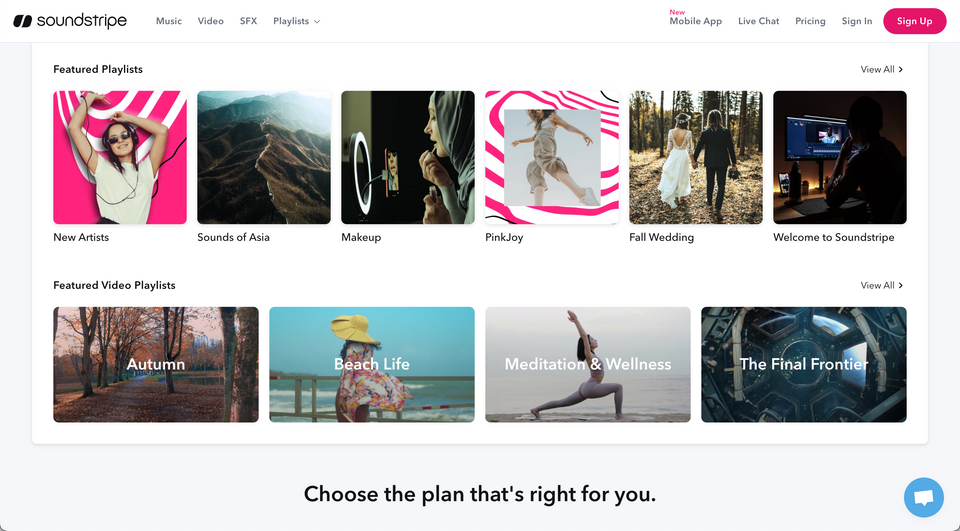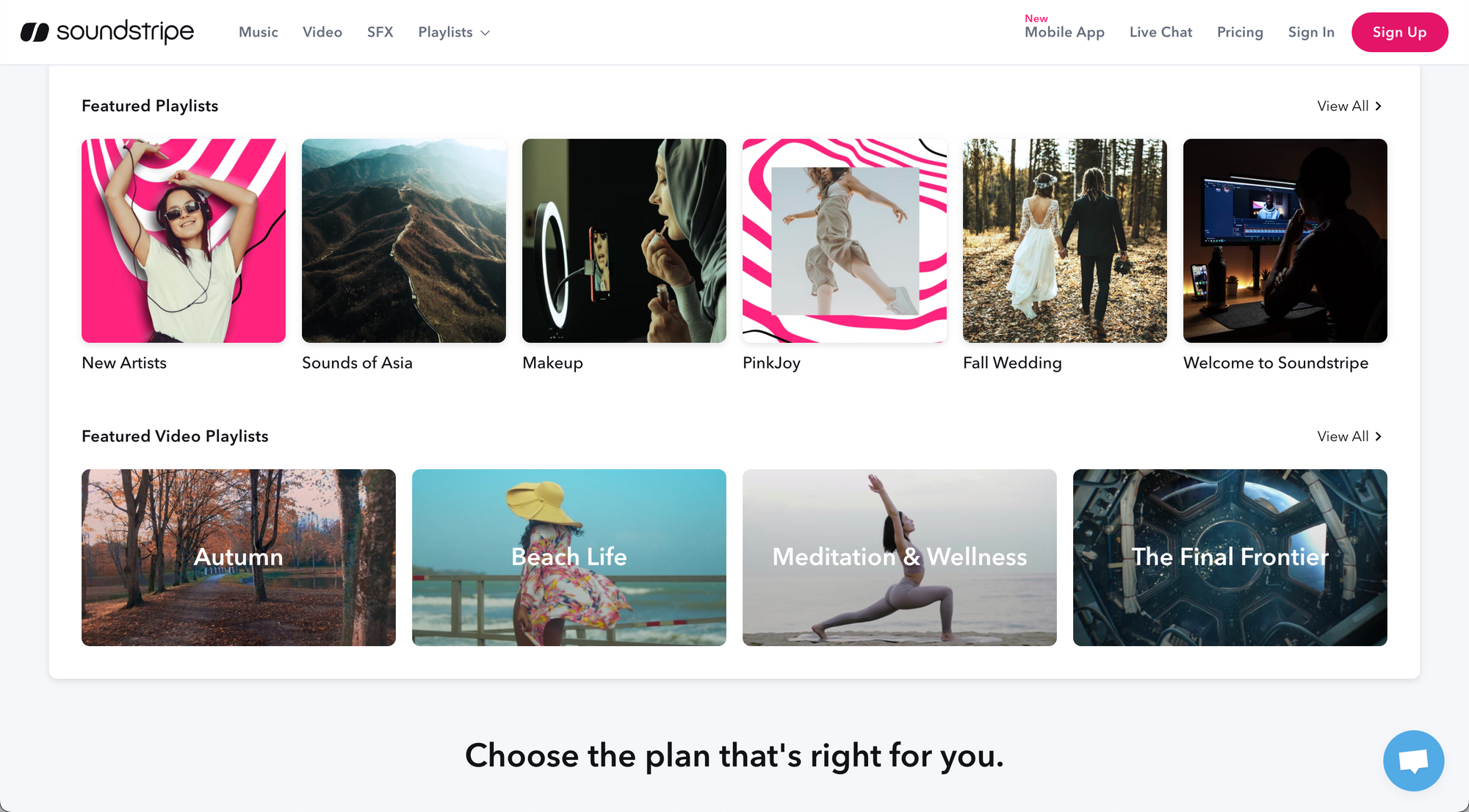 When you need quality music, Soundstripe is the answer. We were founded by three professional musicians, so we're obsessed with quality. Our Grammy-winning sound engineers ensure every song in our library is exceptional. Plus, we add new music every week. No matter what project you're working on, we've got the songs you need.

Quick facts:
❌ Free Trial Available
✅ Forever License
✅ Unlimited Usage
✅ New Music Everyday
🔥 From 9.99$/month (best value for money)

Our discount: 15% on all subscriptions (use code: cchound)

Checked for:
✅ Youtube | ✅ TikTok | ✅ Twitch | ✅ Facebook | ✅ Twitter
✅ Vimeo | ✅ Commercials | ✅ Broadcasts | ✅ Websites
✅ Weddings | ✅ Games | ✅ Applications | ✅ Podcasts
✅ Presentations | ✅ Film Festivals & Cinemas
✅ Worldwide coverage | ✅ Any Future Platform

✌License: With Soundstripe, your membership covers the cost for every song license. Just find the right track, download the file, and get a custom license. That's it. No channel or media-specific fees, no recurring royalties, ever. Here's more good news: you have unlimited licenses. Go ahead, download as many songs as you want.

Get 15% off on all plans with code: cchound
Introduction
Choosing the right soundtrack for your digital content is an integral part of the creative process, and Soundstripe exists to make that choice easier. Conceived by three professional musicians and supported by Grammy-winning sound engineers, Soundstripe is a platform that offers a carefully selected library of royalty-free music to creators worldwide.
The Roots of Soundstripe
Soundstripe's story begins with three professional musicians with a shared vision. They sought to create a platform that prioritized quality without compromising accessibility. Over time, this vision has been realized in the form of Soundstripe, a platform that is not only committed to quality but is also obsessed with it.
Quality that Speaks for Itself
Quality isn't a mere buzzword at Soundstripe; it's a principle embedded in the platform's DNA. The sound engineers working behind the scenes are Grammy winners, a testament to their commitment to delivering exceptional music. When you choose a soundtrack from Soundstripe, you're not just choosing a song; you're choosing a piece of music that has been meticulously crafted and refined to meet the highest standards.
A Constantly Evolving Music Library
In an industry that's continuously evolving, staying relevant is crucial. Soundstripe understands this, which is why they add new music to their library every week. This consistent influx of new tunes ensures that you'll always find something fresh and relevant, no matter the project you're working on.
Broad-Spectrum Usability
Soundstripe's usability extends to a myriad of platforms. From YouTube to TikTok, Twitch to Facebook, and Twitter to Vimeo, Soundstripe covers it all. The platform's music can also be incorporated into commercials, broadcasts, websites, wedding videos, games, apps, podcasts, presentations, film festivals, and cinemas. With worldwide coverage, Soundstripe is designed to cater to any current or future platform.
The Forever License and Unlimited Usage
A standout feature of Soundstripe is its 'Forever License.' With this, your membership covers the cost for every song license. Find the right track, download the file, and get a custom license — it's that simple. There are no channel or media-specific fees and no recurring royalties. Plus, Soundstripe offers unlimited licenses, which means you can download as many songs as you want without any restrictions.
Affordability without Compromise
Despite all these offerings, Soundstripe maintains affordability with subscriptions starting from $9.99 per month. To sweeten the deal, Soundstripe also offers a 15% discount on all subscriptions using the code 'cchound'. This provision underscores Soundstripe's commitment to providing accessible and affordable royalty-free music to creators.
Conclusion
In the world of royalty-free music, Soundstripe sets itself apart with its emphasis on quality, accessibility, and affordability. By creating a platform where creators can easily find and use high-quality music for their projects, Soundstripe bridges the gap between creativity and resources. It's not just about finding a soundtrack; it's about finding the right soundtrack without breaking the bank or compromising on quality. Soundstripe's mission is to help creators find the perfect harmony between their vision and their budget.