In video marketing, picking the right music can make the difference between having a film that captivates your viewers from beginning to end and one that they barely finish. Use a suitable soundtrack or an appropriate jingle. You will be able to grab your viewers' attention and trigger certain emotions that you wish them to identify in your business. Don't pay attention to your video's musical element, and viewers will not think highly of your company. If you're not planning to approach a major music publishing company, you'll want the royalty free music. We've put together this guide to the best royalty free music platforms in 2022.
What Is the Difference Between Royalty Free Music with Other Types of Music Licensing?
If you make videos for video platforms like YouTube or Twitch, You must be aware of the difficulty in finding the perfect music to accompany your video. After hours of arduous editing and re-editing, the last and most vital step is to include the music. Before you add a track to your video, be sure to consider whether it will complement the content you are creating, and then you must confirm its licensing. Since the majority of video-sharing platforms and social networking platforms demand the use of music that is not copyrighted, you must be extremely cautious when incorporating tracks in your video. If you don't wish to be a victim of legal or negative consequences, it is recommended to make sure to use royalty free music, as explained in this royalty-free music guide.
What exactly does the term "royalty-free" mean?

What makes it different from other music licensing options like Creative Commons? Are they the same? Simply put, royalty-free is a type of music license that doesn't need the user to pay for royalty-based performance. Also, you don't need to pay every time you play or download the royalty-free tracks. This is why influential content creators and artists usually prefer royalty-free licenses.

Can You Use Music That Is Royalty-Free for Commercial Purposes?
The simple answer is yes. No matter if you require the music for commercially-produced YouTube videos, commercials, corporate videos, films, film projects, etc. It is possible to use royalty-free music as long as you have licensed the music prior. There is a common misconception that instrumental music belongs in the public domain and therefore doesn't require licensing. However, there are tracks for instrumentals available in the open domain. Copyright owners have licensed most tracks, including music companies that are royalty-free. So, if you want to use the royalty free music in commercial projects, however, you'll need to obtain the license rights.
8 Best Royalty Free Music Platforms
Artlist - our visitors choice!
- Over 10.000 of our visitors have chosen artlist, that's what we call peoples choice!

The Artlist library contains 18,000+ songs. When you buy a subscription, you will have full access and are able to take as much music as you like. Artlist selects the best songs from independent artists and offers music from around the globe, from small communities in Asia to clubs located in L.A. and London. The audio quality is excellent. The new music is added regularly, so you'll be able to find something new to work with for your next endeavor. The Artlist team reviews every single piece of music submitted by artists and then adds the most popular ones to their catalog.
The songs that are available differ in length and could vary from under one minute to as long as 15 minutes in length. Certain songs contain lyrics, but generally, there's an instrumental version too. People love that a lot of songs have alternative versions because this makes editing videos much easier for them. The files can be available in both Wave 16-44.1 and MP3 320kbps formats.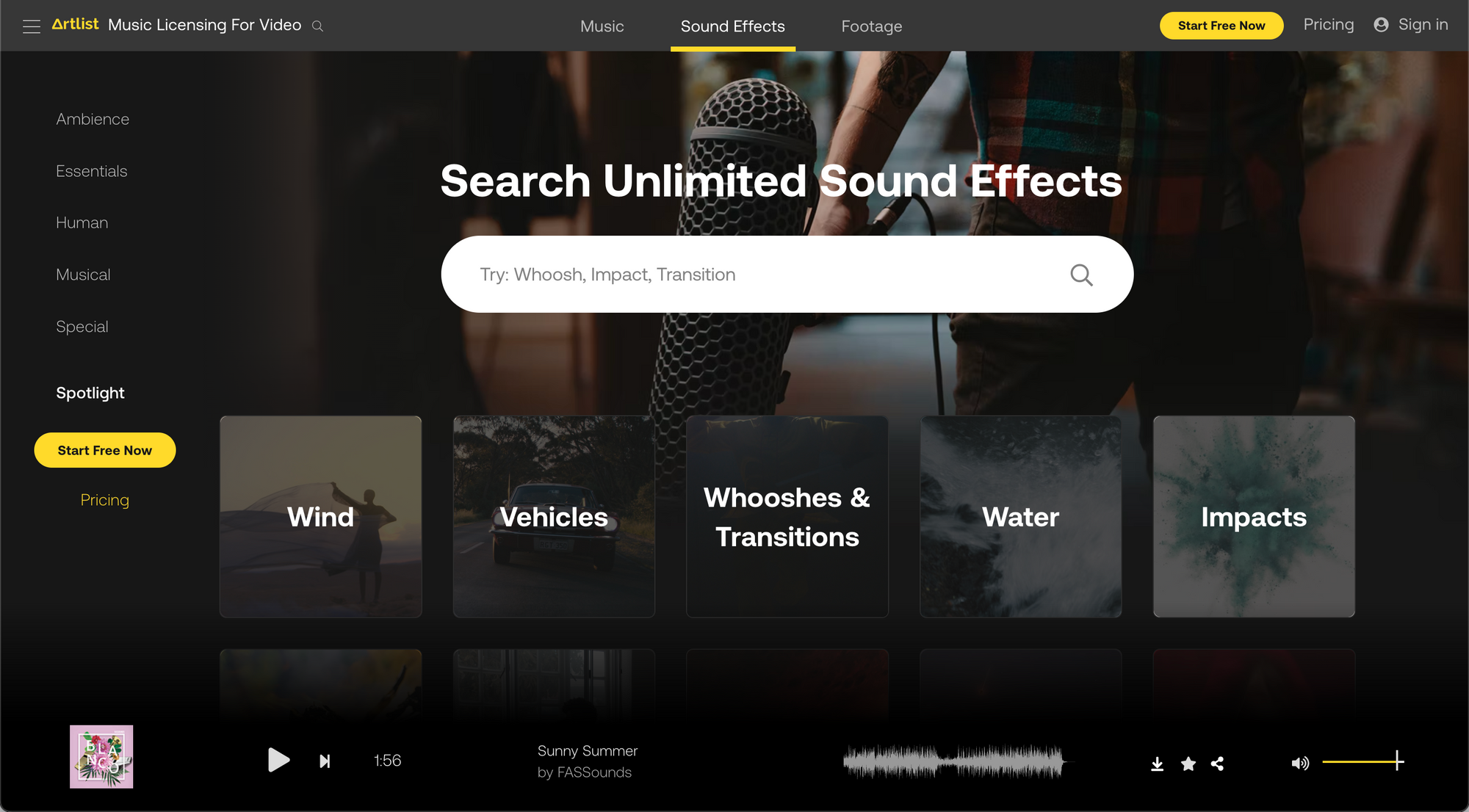 Artlist is a platform that offers streamlined, high-quality licensing for filmmakers and video creators. Members with active subscriptions have full and unlimited access to the site's entire musical catalog and/or SFX catalog.

Quick facts:
✅ Free Trial Available
✅ Forever License
✅ Unlimited Usage
✅ New Music Everyday
🔥 From 9.99$/month (best value for money)
🏆 Best deal: Sign up for a year, get two months free (need to use cchound link below)!

Checked for:
✅ Youtube | ✅ TikTok | ✅ Twitch | ✅ Facebook | ✅ Twitter
✅ Vimeo | ✅ Commercials | ✅ Broadcasts | ✅ Websites
✅ Weddings | ✅ Games | ✅ Applications | ✅ Podcasts
✅ Presentations | ✅ Film Festivals & Cinemas
✅ Worldwide coverage | ✅ Any Future Platform

✌License: Artlist's Unlimited License allows you to use material from the catalog in any video production on any platform worldwide. This license covers personal projects and even commercials. In short, everything a filmmaker needs.

Claim deal with 2 months free!
Soundstripe is one of the most reliable service to find and license royalty free music online without paying the price on an individual basis. The annual fee is affordable, and their standard music library contains high-quality music that can be matched to every mood and genre. There are many marketplaces and subscriptions to music that are royalty-free that you can choose from. If you're on a larger budget and don't mind shelling out the price for a costly song, Soundstripe may not be the right choice for you.
Suppose you're in the market for an extensive library of high-quality stock music at an affordable cost and with easy-to-understand usage rights. In that case, Soundstripe's subscription plans are difficult to beat. Soundstripe is an excellent choice for commercial and independent filmmakers, wedding videographers' creators of content, podcasters, creative freelancers, as well as marketing agencies in need of high-quality music libraries that are royalty free music without spending a huge amount of cash.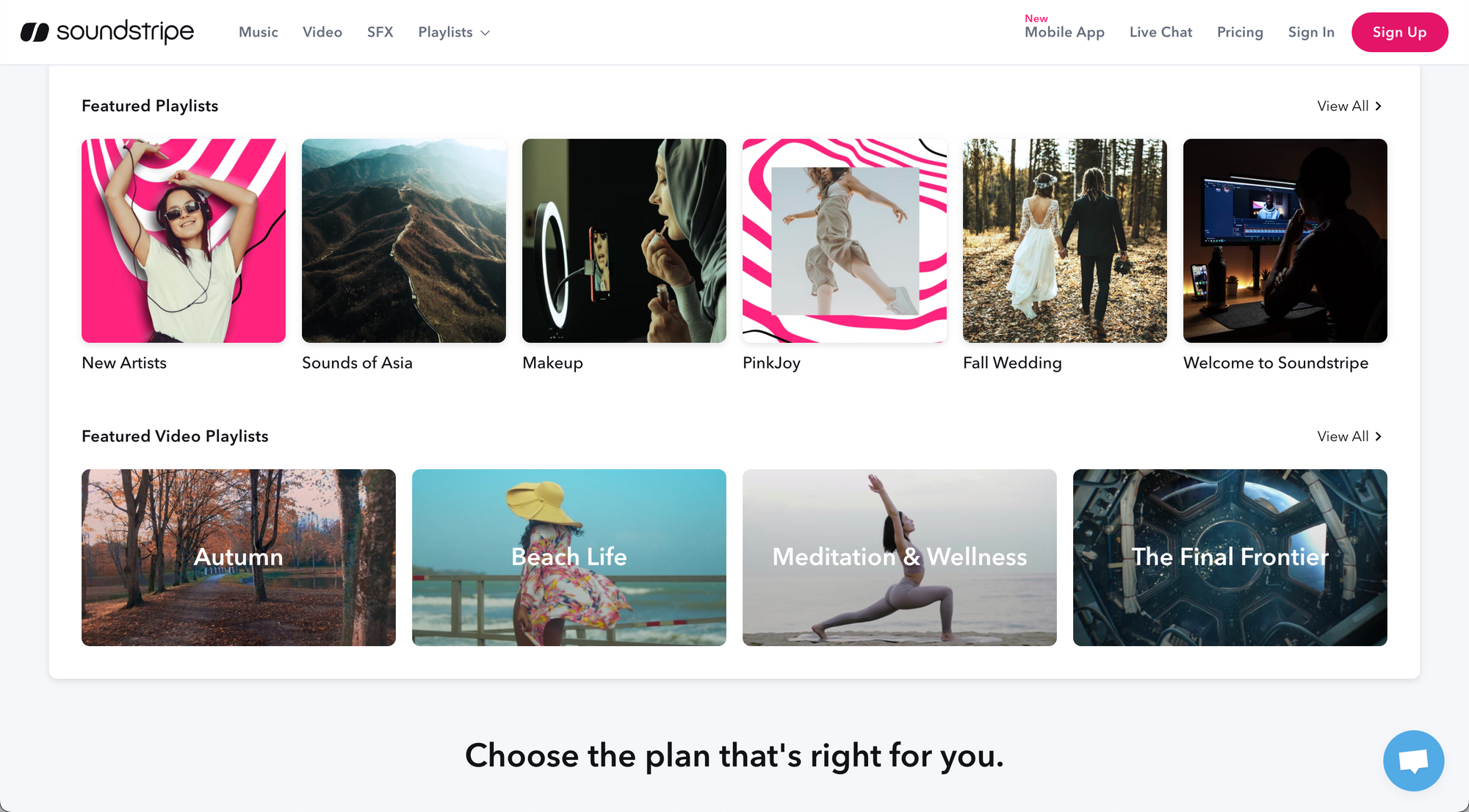 When you need quality music, Soundstripe is the answer. We were founded by three professional musicians, so we're obsessed with quality. Our Grammy-winning sound engineers ensure every song in our library is exceptional. Plus, we add new music every week. No matter what project you're working on, we've got the songs you need.

Quick facts:
❌ Free Trial Available
✅ Forever License
✅ Unlimited Usage
✅ New Music Everyday
🔥 From 9.99$/month (best value for money)

Our discount: 15% on all subscriptions (use code: cchound)

Checked for:
✅ Youtube | ✅ TikTok | ✅ Twitch | ✅ Facebook | ✅ Twitter
✅ Vimeo | ✅ Commercials | ✅ Broadcasts | ✅ Websites
✅ Weddings | ✅ Games | ✅ Applications | ✅ Podcasts
✅ Presentations | ✅ Film Festivals & Cinemas
✅ Worldwide coverage | ✅ Any Future Platform

✌License: With Soundstripe, your membership covers the cost for every song license. Just find the right track, download the file, and get a custom license. That's it. No channel or media-specific fees, no recurring royalties, ever. Here's more good news: you have unlimited licenses. Go ahead, download as many songs as you want.

Get 15% off on all plans with code: cchound


Envato Elements is available at a great price. It's reasonably priced and easy to cancel, and the terms for commercial licenses are fair. Many of the resources available in Envato Elements can be perfect for the next design and can save you cost compared to buying every item separately. Also, there's no limit to the number of items you can purchase from Envato Elements you can use in a single year, which makes this service truly unique.
If you search for royalty-free images, music or video design templates, WordPress themes, and plugins, Envato Elements is the best source of creative resources. Suppose you're in search of an option which will let you have access to a variety of resources from the different Envato marketplaces. In that case, It's worth looking through the library to see whether it meets your requirements prior to deciding to sign up for the service.
Videvo provides free videos, premium content motion graphics clips and template designs (After Effects, Premiere Pro), music, and sound effects. It's renowned for its simple licensing, the flexibility of subscription options, and the affordable cost of subscriptions. Perhaps the most notable characteristic is the free 18K video clips that will require you to identify the source. Premium downloads are available for both monthly and annual subscriptions beginning at $4.99/month. While the monthly subscriptions offer a predetermined amount of monthly downloads, the annual subscriptions come with unlimited downloading.
In terms of pricing, Videvo's video plans are among the most affordable available. Its license is also flexible. One of the biggest disadvantages is that it could be difficult to locate an exact video. But you won't be able to beat the cost. If you're looking for a low-cost or free alternative, Videvo.net is your best royalty free music choice.
MusicVine has been voted the top producer in the world. It will allow you to draw attention to your audience and boost your creative abilities. Get better music with more than 6000 tracks by the best musicians, composers, and beatmakers from around the world. A perfect playlist for contemporary productions. Professional-friendly interface. Music Vine's top search tools, as well as thematic playlists, make it simple to locate the perfect track.
Music Vine collaborates with artists to develop songs that are reflective of the most recent developments in film and media. After conducting a royalty free music Comparison, we found that Music Vine is a popular choice for filmmakers and companies all over the world. Music Vine was launched in mid-2015 and is now home to some of the most famous and captivating production musicians worldwide. Their clientele includes famous marketing agencies as well as global brands and amateur filmmakers, and independent filmmakers.
Musicbed.
Whatever music genre you can think of, Musicbed has it waiting for you. It largely covers indie composers and bands. It is accessible for almost any budget. Musicbed gives voice to musicians from the indie scene and makes their music available (and cost-effective) to agencies, filmmakers as well as non-profit organizations. Their music library allows users to find the right track for your project. The best quality music is available in a matter of clicks, as they sign music artists and license their songs too.
Epidemic Sound is an excellent alternative for music that is royalty-free. The benefits far overshadow the drawbacks of this platform. Epidemic Sound is an ideal way for musicians to be noticed by a wider public and even offers the artist a payment upfront, unlike other music subscription sites. For content creators, Epidemic Sound provides trustworthy, royalty-free, high-quality music at the lowest cost so that podcasters and creators of videos are not worried about copyright violations while frequently making content. Most importantly, Epidemic Sound offers an extremely diverse selection of music that is constantly being upgraded, meaning that creators of content will always be able to pick new tracks. If you're a creator, an artist, or a podcaster, using Epidemic Sound will help you reach more people and produce better quality content.
Uppbeat provides free music to creators and guarantees that there are no YouTube copyright problems or the demonetization of your content. It's the only free sounds, songs, and clip platform for creators from a company that is determined to pay artists with respect. Uppbeat is the first platform to provide top-quality music and famous sound clips for new and experienced creators. A carefully curated collection of the most renowned beatmakers and indie artists. Conclusion
In short, you can't make use of copyrighted music unless you have the rights or obtain explicit written permission, whatever the duration, purpose, or monetization. The process of obtaining the rights to popular songs is expensive for many podcasters, making alternative royalty free music platforms the ideal choice for creators of content.